My husband and I had a trip booked to Ireland in June 2020. Due to Covid, the trip never happened. For a myriad of reasons, it's a trip that likely won't happen any time soon. I've pulled up my old itinerary, and I'm going to explore as much of this holiday as virtually as I can! Please visit my BLOG page for previous entries.
DAY 12: DUBLIN
FLAG: The Dublin flag features "three burning castles" which are part of the coat of arms of the city that were officially granted in 1607 by the Ulster King of Arms. The castles are set on a large field of green, symbolizing youth and hope. Centered in the right half of the green field is the golden harp of Ireland.
ABOUT: Dublin is the capital and largest city of Ireland. The name Dublin derives from the Irish word Dubhlinn, early Classical Irish dubh meaning "black, dark", and lind meaning "pool", referring to a dark tidal pool. This tidal pool was located where the River Poddle entered the Liffey, on the site of the castle gardens at the rear of Dublin Castle. The Poddle is hidden today and flows beneath the city.
VIKINGS: The Vikings settled in Dublin from 841 AD onwards. During their reign Dublin became the most important town in Ireland as well as a hub for the western Viking expansion and trade. It is the earliest and longest-lasting Norse kingdom in Ireland. Norse rulers of Dublin were often co-kings, and occasionally also Kings of Jórvík in what is now Yorkshire. Under their rule, Dublin became the biggest slave port in Western Europe. Its main sources of supply were the Irish hinterland, Wales and Scotland. The Irish slave trade began to decline after William the Conqueror consolidated control of the English and Welsh coasts around 1080, and was dealt a severe blow when the Kingdom of England abolished slavery in 1102.
Day 4 of my blog visited Dublin already. Here are some additional sights that we will hit today:
DUBLIN CASTLE: Until 1922 it was the seat of the British government's administration in Ireland. Most of the current construction dates from the 18th century, though a castle has stood on the site since the 13th century.
CHRIST CHUCH CATHEDRAL: The cathedral was founded in the early 11th century under the Viking King Sitric Silkenbeard after he made a pilgrimage to Rome.
ST PATRICK'S CATHEDRAL: Built in honor of Ireland's patron saint, built on top of a site said to be where St Patrick would baptize new converts to Christianity. With over two hundred religious relics housed within its walls, it traces Ireland's religious past through the years and is also a stunning architectural site with vibrant stained glass windows, an impressive altar, and cathedral tower.
TRINITY COLLEGE/BOOK OF KELLS: Circa 800 AD. The illustrations and ornamentation of the Book of Kells surpass that of other Insular Gospel books in extravagance and complexity. The precious ninth-century manuscript will be viewed for the first time on a plinth in a free-standing tower, providing an inspiring experience to visitors. It will facilitate every single page to be displayed, on a rotating basis. This will include some of its most ornate pages which have not been on public display for many decades.
HENRIETTA STREET MUSEUM
Henrietta Street is the most intact collection of early to mid-18th century houses in Ireland. Work began on the street in the 1720s when houses were built as homes for Dublin's most wealthy families. By 1911 over 850 people lived on the street, over 100 of those in one house, here at 14 Henrietta Street.
I was really impressed by what I read about The Hugh Lane Art Gallery and want to share some additional information. First of all, the gallery was founded by Sir Hugh as the first known public gallery of modern art in the world. Lane did not live to see his gallery permanently located as he died in 1915 during the sinking of the RMS Lusitania. The RMS Lusitania was a UK-registered Cunard ocean liner that was torpedoed by an Imperial German Navy U-boat during the First World War. After the single torpedo struck, a second explosion occurred inside the ship, which then sank in only 18 minutes. 761 people survived out of the 1,266 passengers and 696 crew aboard. The sinking turned public opinion in many countries against Germany. It also contributed to the American entry into the War two years later; images of the stricken liner were used heavily in US propaganda and military recruiting campaigns.
HIGHLIGHTS OF THE MUSEUM INCLUDE:
FRANCIS BACON STUDIO:
The Hugh Lane acquired Bacon's London studio in 1998. Over 7,000 objects from the original artist's studio were found, logged and painstakingly transferred, and the space was formally opened to the public in 2001 – a rare example of a studio being completely transplanted from one city to another. It is accompanied by an online database that forms the first computerised record of the entire contents of an artist's studio. Read about the artist here. Click here to see other cool artist studios around the world.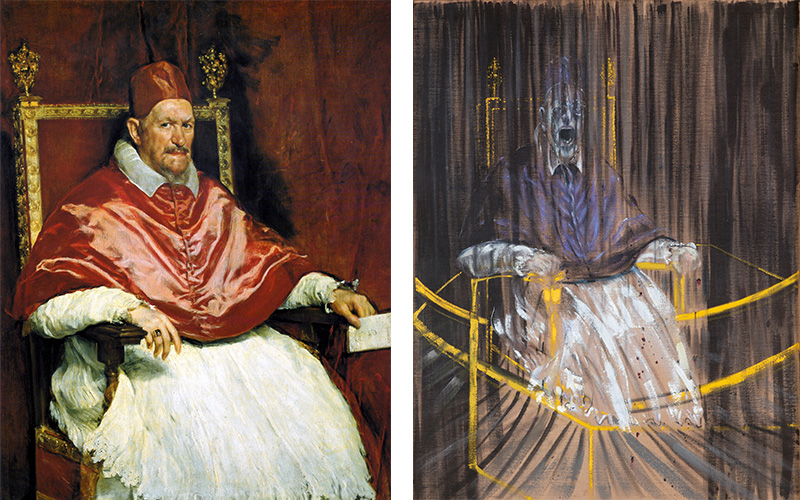 THE EVE OF ST AGNES – HARRY CLARKE'S STAINED GLASS
Click on this link to read all about it. Seriously. Good. Story. And. Pictures. I love, love, LOVE this guy's art:
Unfortunately, Harry Clarke was an artist that died too soon. Clarke was diagnosed with tuberculosis in 1929, and went to a sanatorium in Davos, Switzerland. Fearing that he would die abroad, he began his journey back to Dublin in 1931, but died on 6 January 1931 in Chur where he was buried.
Reading that sent me into a tuberculosis rabbit hole:
In 1943 Selman Waksman discovered a compound that acted against M. tuberculosis, called streptomycin. The compound was first given to a human patient in November 1949 and the patient was cured. A chemical related to aspirin, para-aminosalicylate or PAS, another chemical isonicotinic acid hydrazide or INH, and a compound released by a fungus-like microbe to inhibit other organisms from competing with it in the soil (streptomycin), were all discovered between 1943 and 1951.
By the late 1950s it was observed that if all three drugs were given to TB patients, cure rates of 80-90% could be achieved. However, the side effects and toxicity were formidable and required 18-24 months of treatment.
Finally, let's cap off the day with a drink at Dublin's LONG HALL:
One of the oldest pubs in Dublin, this pub was named after a chapel dedicated to Saint George in 1181. The Long Hall preserves a Victorian atmosphere evoking a bygone age. The original pub which backs on to Dublin Castle opened in the 1860s. It's not a myth, you know—Guinness really does taste better in Ireland. It has nothing to do with how it's transported, though, but rather with how the taps are maintained and how often it's drunk. And in The Long Hall, it's certainly drunk with regularity. So even if you don't think you like it, give it a try here, because it's one of the best pints in Dublin. This is pure bar snack territory—the only food you'll see on these tables are bags of peanuts and the ubiquitous Irish Tayto chips.
Next up: Newgrange tour.
My book Memory Road Trip is available as e-book or paperback! Buy it either at Amazon or at most major retailers.